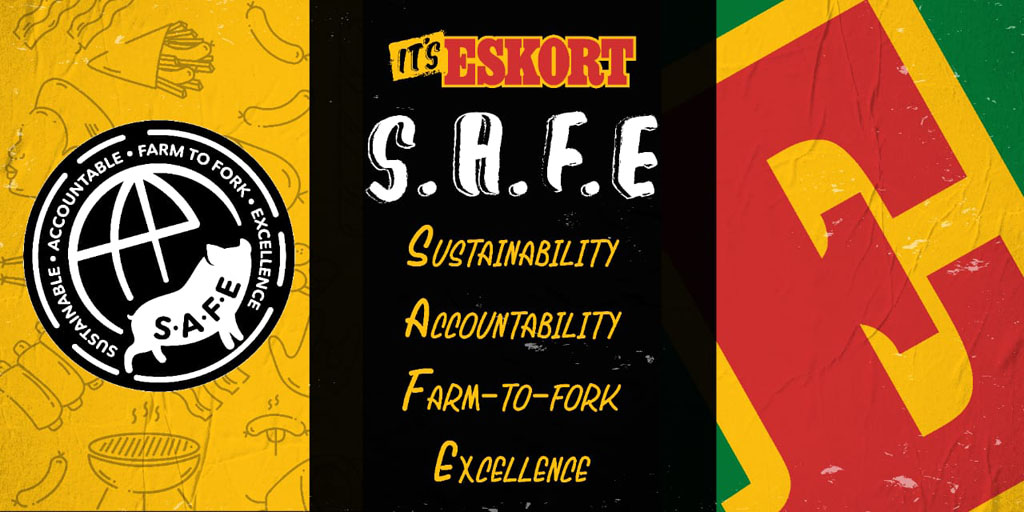 SAFE – Eskort's new badge acknowledges its unrivalled commitment to pork product quality
Sustainable – environmental sustainability, sow-friendly practices, pig welfare and biosecurity
Accountable – traceability, uncompromised hygiene practices and rigid quality control measures
Farm-to-fork – responsibility across the entire value chain
Excellence – superior, award-winning products for 103 years
Eskort's new quality assurance badge – SAFE – acknowledges the company's unrivalled commitment to pork product quality in South Africa.
Introduced in the second half of 2020, the badge depicts a pig on a globe and the acronym SAFE.
The globe communicates the global benchmarks that Eskort's quality assurance practices meet while the acronym neatly summarises the four cornerstones of its quality assurance programme:
Sustainable
Accountable
Farm-to-fork
Excellence
From the farm, to the processing and manufacturing facilities, to delivery to the retailerand it is this holistic quality process that ensures superior quality products from farm-to-fork that the SAFE badge communicates.
Sustainable and Accountable
The first two of the cornerstones – Sustainable and Accountable – are addressed by Eskort's superior farm practices, including food safety and traceability systems, pig welfare and sow-friendly practices, and biosecurity and environmental sustainability programmes.
Farm-to-Fork
Quality control programme addresses the entire value chain, including processing and manufacturing.
This means that Eskort grades and enforces compliance with respect to how manufacturers and processors maintain their facilities, and how they look after the pigs' welfare once they are delivered into those facilities, to name but two critical links in the post-farm supply chain.
Excellence
The fourth cornerstone – Excellence – is evident in the company's 103 years of uncompromised quality, its rigid commitment to quality and hygiene practices, and the many principles it has in place as safety assurance for its consumers.
"At Eskort, we place our customers' health and well-being above all else. It is, therefore, crucial for us to take ownership of every element of the supply chain," said Eskort's CEO, Arnold Prinsloo.
"The critical difference between our quality assurance approach and the farm assurance mark most other producers adhere to is that Eskort's addresses every link in the supply chain. The adoption of SAFE badge conveys our holistic approach to quality assurance.
"We think this approach is worth acknowledging and celebrating with the SAFE badge, and are certain our customers will agree with us," he said.