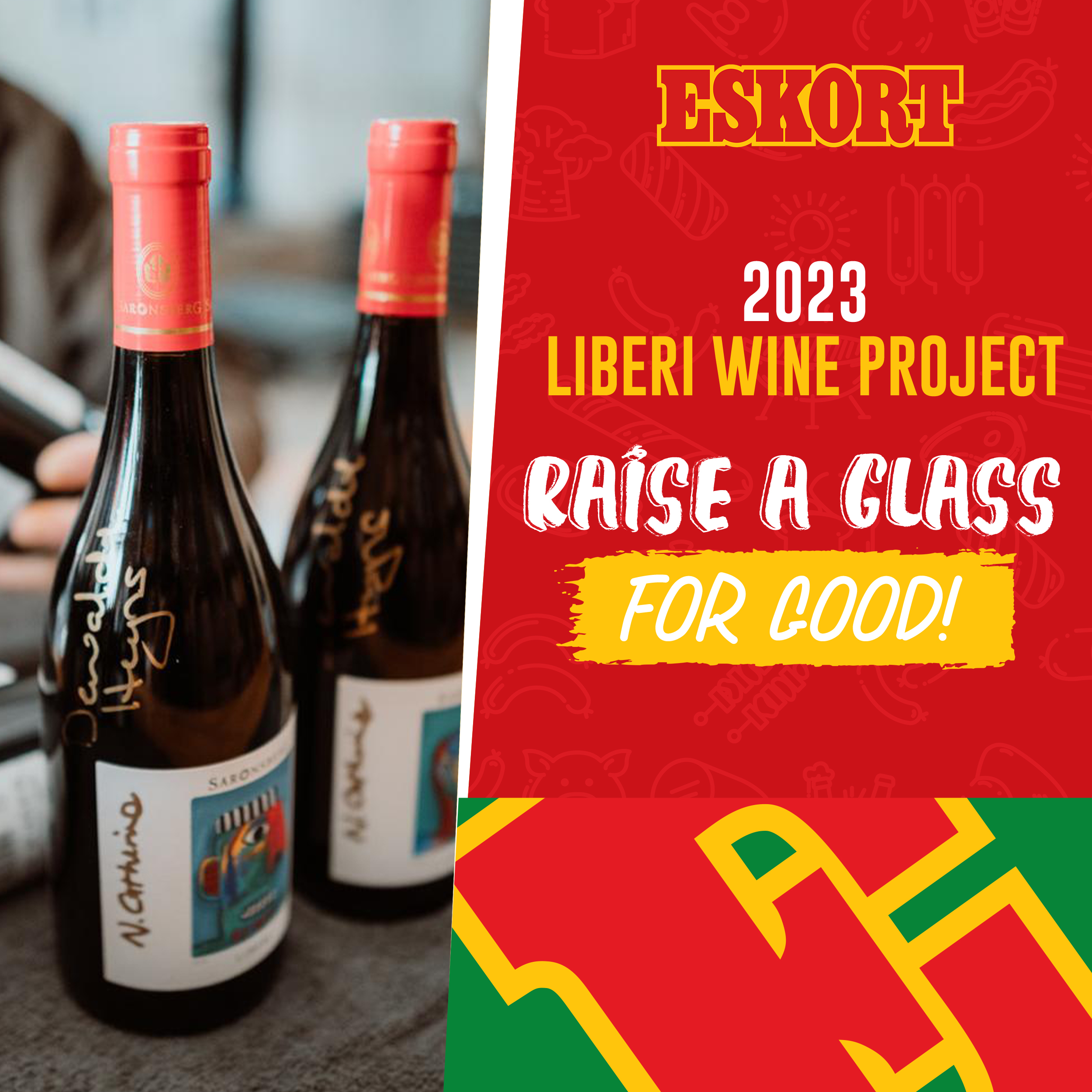 The Liberi wine project, now in its third year, is an Eskort initiative in collaboration with Saronsberg. The project seeks to combat poverty in South Africa by supporting children in need. The project is aptly named 'Liberi' as its roots lie in Latin and it means 'our children'. This symbolises our commitment to improving the lives of SA's children and playing our part towards combating poverty. 
This project showcases the talent of Cellar Master Dewaldt Heyns, who is recognised in the Master Winemaker 100 Report 2023. His 20-years of expertise at Saronsberg has led to the creation of exceptional Liberi wines.
The 2023 project features prints by esteemed South African artist, Norman Catherine, on Liberi wine bottles. We're offering the limited-edition Saronsberg 2021 Shiraz, that offers a bold bouquet of sophisticated flavours supported by a heady mix of red berry and black fruit flavours. This, combined with floral notes and fynbos nuances, will delight your tastebuds and leave you wanting more.
Also included with the 2023 project is the Saronsberg Chardonnay. The Chardonnay delivers an elegant, subtle, and charming burst of lemon blossom and white spring flowers. Of interest, is that the grapes used to produce this wine are harvested early in the morning, and the wine is aged in Allier French oak barrels.
Our goal extends beyond supporting local artists and wine makers; we aim to raise R2 million through this project, which will be donated to the Beeld Children's Fund (Beeldkinderfonds). The Fund assists South African children in need, and ensures that all proceeds are meaningfully and sustainably allocated. By supporting this project, you'll be making a marked difference in the lives of our country's children in need, and be able to enjoy a delicious glass of wine too.
The Liberi project exemplifies the power of collaboration and giving back. By purchasing the limited edition Sarensberg 2021 Shiraz and Chardonnay, you're doing your part to building a better future for the children of our beautiful country. 
For enquiries, please contact Ingrid: Ingridl@eskort.com or Domaine: Domainer@eskort.com    
Together, let's raise a glass to doing good.