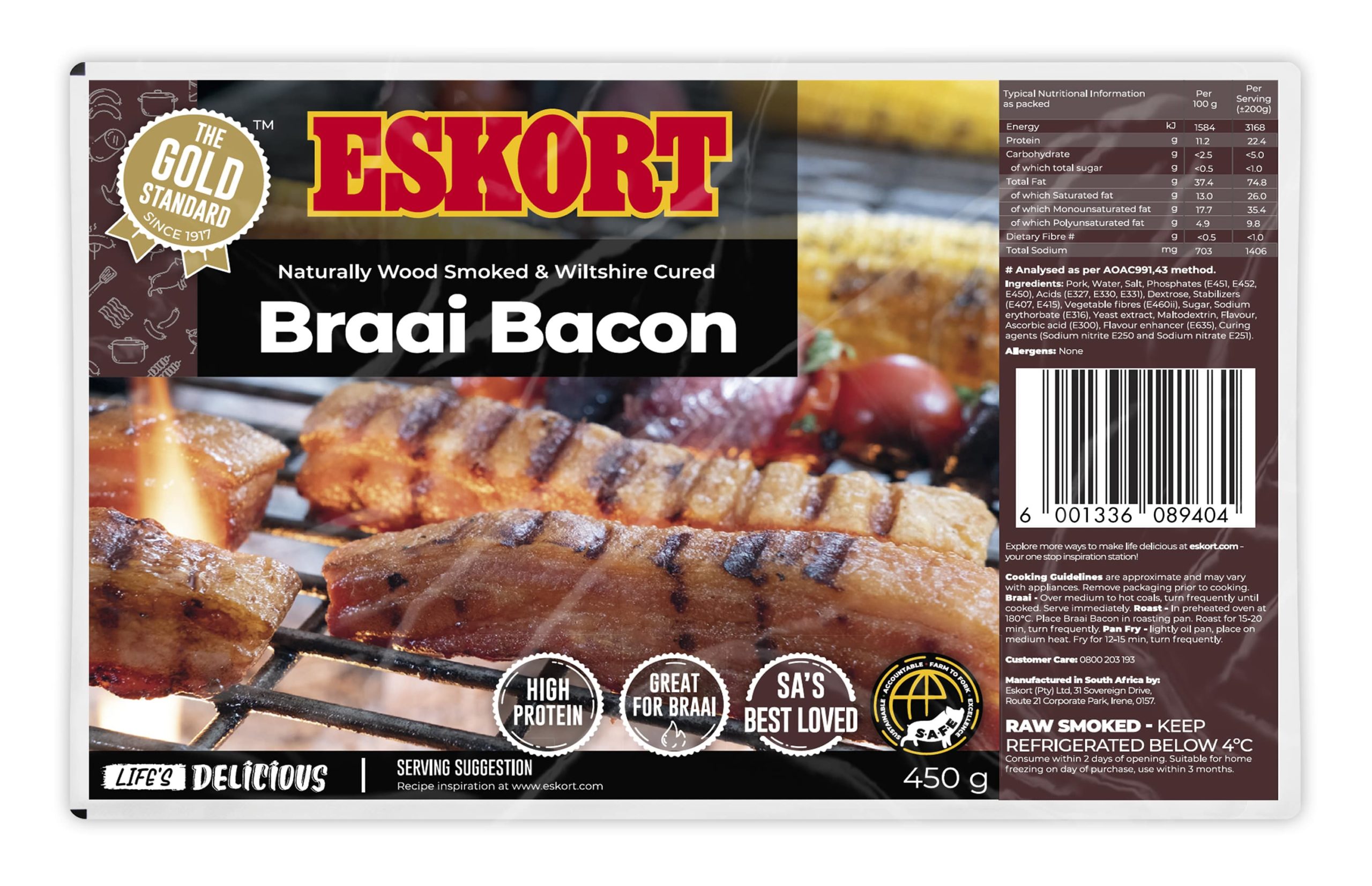 As market leaders of the bacon category, we are continuously innovating to break through the category clutter, retain our market share and create desirability for our products.
We recently launched our brand new bacon packaging into trade and simultaneously introduced our Braai Bacon to the category.
South Africa's most loved bacon brand is changing the game with these unique new innovations that are sure to excite South African customers.
The first-of-its-kind Eskort Braai Bacon is sure to be a hit at your next big cook-up, while our new product packaging across all its bacon products sets a new standard – both in terms of its amazing design, and its effective food protection.
Learn more about these awesome new innovations below.
Eskort Braai Bacon
Eskort's Braai Bacon is the first of its kind in the South African bacon market and it will transform the way you braai – you'll never want to braai without Braai Bacon again!
We can already imagine it – the sounds of 20mm pork belly slices sizzling on the braai and the smell of Beech Wood.
Each pack contains three 150g Braai Bacon rashers, and all you need to do is put them on your grill for 15 minutes and they're ready to go – making Eskort Braai Bacon the most convenient option if you're craving that smoked pork flavour.
Eskort Braai Bacon fits into your braai menu perfectly – whether you're looking for more meaty delight, or want to turn your braai broodjie into a delicious sandwich.
Ultimately, no matter how you like to braai, Eskort Braai Bacon will bring more to the experience than you could possibly imagine.
More importantly, it is now available to purchase – so stock up on Eskort Braai Bacon today!
Updated packaging
As part of our repositioning strategy, we have embarked on several marketing and branding projects – one of which was updating our existing packaging.
The rationale behind the packaging upgrade was that we wanted to stand out in a parity market and create category and product differentiation.
The country's favourite bacon company has knocked this redesign out the park with a modern look that definitely makes these products stand out at your local store.
We believe that product packaging is more than just a way to contain and protect food; it is a key selling point that highlights the bacon's best features while taking the customer on an emotional journey when shopping at their local store.
This packaging was therefore designed to make Eskort bacon products look just as good as they taste, while also doing an amazing job of protecting the quality of Eskort's bacon range.
Each bacon variant is represented with a different accent colour, to help consumers identify their favourite cut, making differentiation on shelf easy and seamless.
So, next time you go shopping for bacon, make sure you look for your favourite Eskort bacon in its brand-new colour pack.
Check out examples of the new Eskort bacon packaging below.