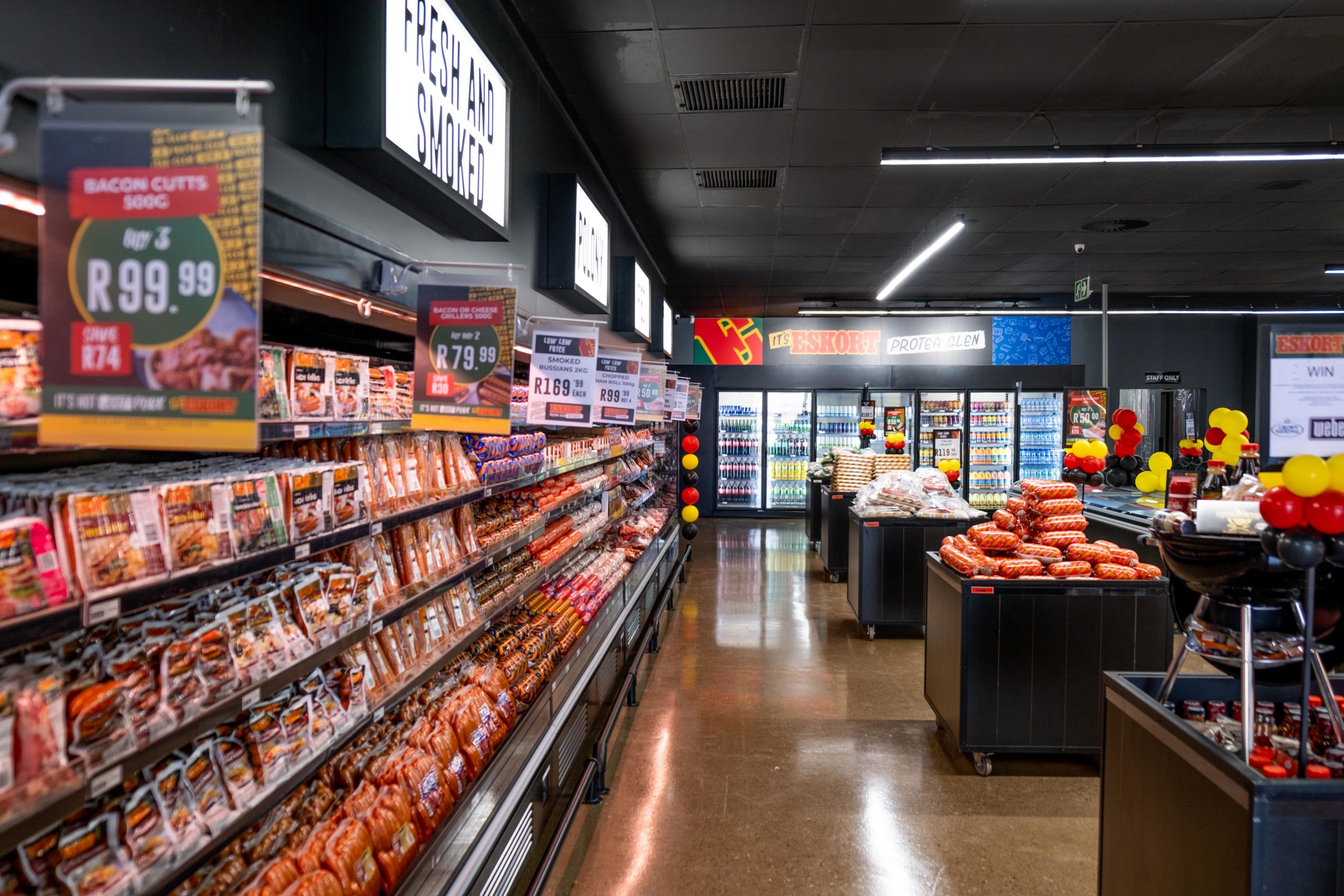 We have recently launched two new butcheries in two days – including its first-ever franchisee-owned store.
The privately-owned Eskort Protea Glen opened on the 22 September, while Eskort Gezina opened the next day, the 23rd September– making the couple of days incredibly exciting for Eskort fans.
The launch of these two new butcheries shows how seriously Eskort takes its thriving retail business, and this focus and passion is driven by the success of its other outlets.
Now that these two new Eskort butcheries are open, Eskort will have an impressive 11 corporate-owned butcheries, as well as its first franchisee-owned store.
The founding of Eskort Protea Glen is a touching story of how Eskort worked with a passionate industry entrepreneur to turn around a bad situation.
During the 2018 South African listeria outbreak, members of the processed meat industry worked together to respond to this crisis.
This was where Eskort (Pty) Limited CEO Arnold Prinsloo met Nkululeko Luthuli, who was an owner and operator of a meat processing factory in Empangeni.
The pair travelled across the country to find the best ways to mitigate the industry crisis, and this meant they formed a great bond.
Unfortunately, Luthuli's factory did not survive the crisis and its shutdown was a big blow to the passionate entrepreneur.
However, Prinsloo was committed to making sure Luthuli was not lost to the industry and this ultimately resulted in the birth of Eskort's Luthuli-led Protea Glen butchery.
Luthuli and Eskort have one important thing in common – both are committed to uplifting local communities and building a better South Africa.
Eskort has over a century of experience in the industry and has employed thousands of South Africans, nurturing their careers and livelihoods.
Luthuli's entrepreneurial journey is focused on this same mutual goal of uplifting the lives of South Africans and providing great meat products to these communities.
Together, Eskort and Luthuli are excited to bring change to the Protea Glen community through Eskort's first ever privately-owned outlet.
Visit your nearest Eskort butchery
Not to be outdone, Eskort Gezina is the company's 11th corporate-owned butchery when it launched on 23 September.
Eskort Gezina is excited to continue the legacy of excellence cultivated by the company's 10 other self-owned butcheries, and Gezina residents were very excited for the butchery launch.
[dt_blog_posts]