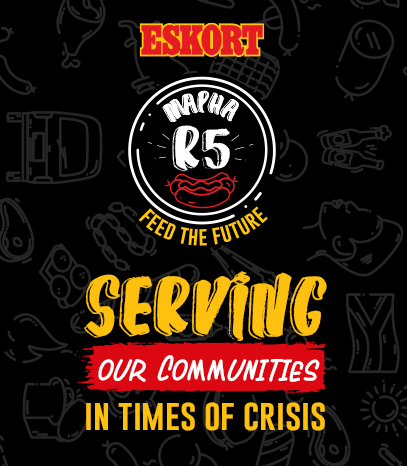 The Eskort Mapha initiative was launched in response to the rising hunger crisis that affects underprivileged children in South Africa. This initiative has only been possible thanks to the charitable donations of Eskort customers, who overwhelmingly responded to the call to donate R5 in support of the campaign. Eskort has identified worthy causes in local communities across the country to support thereby giving back to the very communities that made the initiative possible in the first place. 
The Mapha R5 campaign has been a success with 19 Eskort Retail Stores from across the country donating 32 500 hotdogs to support a nationwide drive to alleviate hunger among underprivileged children. Eskort stores are located in 7 of the 9 South African provinces, with more stores planned to come. 
As the number of Eskort stores continue to increase, so does the scope of their outreach. Eskort is particularly proud of the impact its Queenstown store has made in response to the disastrous floods that occurred in early February of this year. The impact was nothing short of devastating as more than 1 000 people were evacuated from their homes and effectively displaced. This meant that relief efforts had to be intensified and this resulted in the distribution of 2000 hotdogs in partnership with the Gift of the Givers to flood victims. 
The campaign has fostered a sense of community, and Eskort is grateful to its team at Eskort Retail Stores for their proactive efforts in providing hot dogs to children in need. Eskort plans to expand the campaign based on the rollout of new Eskort stores. Eskort's commitment to the community is unwavering, and every little gesture counts towards making a positive impact in the lives of those around them. The Mapha R5 campaign has proven that even a small donation can make a significant impact on society. Eskort is looking forward to the growing support it will have in communities across South Africa and the endless possibilities that lie ahead.